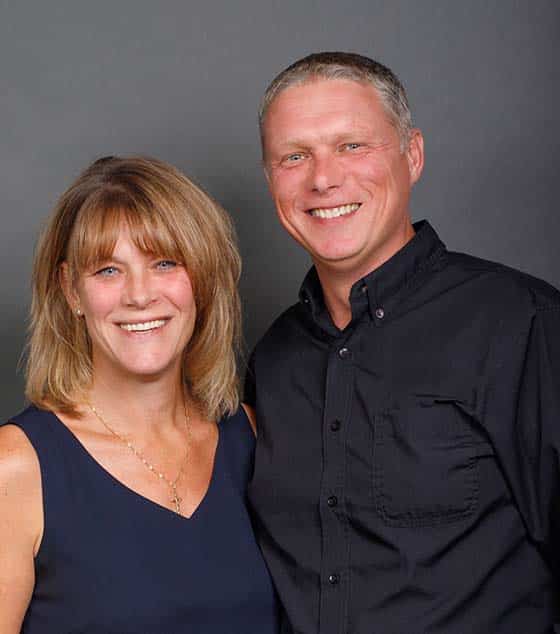 "Our company is different."
It's a claim made so often that the words have become completely meaningless. We're different because we focus on the customer. We're different because we focus on quality. We're different because we take the time to listen. It's a never ending onslaught of companies, in every industry imaginable, who claim they're different by providing the things the customer has deserved all along.
Hammerdown was born from simply wanting to do things a better way. We transform rooms and entire homes to match the finest detail of any vision, and we do it with unparalleled integrity, honesty and communication.
At the heart of our business is the husband and wife team of Tyson and Kim Hiebert. In Tyson, our clients benefit from a lifetime of construction experience and a no-nonsense approach to each and every project. In Kim, clients reap the rewards of an operations expert with a mind that captures every aspect of the renovation process.
Tyson and Kim have spent years building a truly select team of like-minded professionals, where everyone cringes at the words "good enough" like nails on a chalkboard. If you're not going to make it great, why bother? It's a philosophy that exists throughout the entire company, along with an unwavering belief that honesty brings success.
At Hammerdown, we're going to make it right because that's the only way we know how to do business. It's a simple concept that's not always easy, but we would never do it any other way. Because for us our work is never done with a final nail or coat of paint – it's done when we see that unmistakable look of excitement on a client's face, and when we feel the same.
For our team at Hammerdown, where we've been delivering one-of-a-kind home renovations for over 17 years, we have no interest in telling you how different we are. We'd rather tell you how we're exactly the same. Not the same as other companies, but the same as our clients. Because they're the only ones who matter.
OUR PROMISE

Our clients see their home as their number one investment.

Our clients believe their home deserves the very best.

Our clients believe quality and value can
co-exist.

Our clients believe companies should tell them the truth.
Our Design-
Build Process
As a design-build company we offer a one-stop shop overseeing a project from start to finish. With one company working with you, there is a clear understanding of accountability and shared goals throughout every phase of the project's planning and construction.
Accreditations
& Awards
We care about doing our best work, and providing our clients with the best possible outcomes. We're accredited Master Builders & Renovators and have been recognized by the Home Builders' Association with more than 10 RenoMark gold awards.
Let's Work Together
Our clients see their homes as their number one investment. So do we! Would you like to talk about ideas and options to transform your home? We'd love to listen, learn, and discuss opportunities to redefine your space.